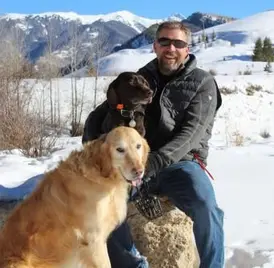 James Ziegler, DVM
Dr. Ziegler comes to us after serving as a general practice veterinarian on the Front Range for eleven years. Practice before that included working at the Aspen and Carbondale Animal Hospitals for one year and a one-year rotating internship at Wheat Ridge Animal Hospital. While growing up in the mountains west of Denver, Dr. Ziegler always wanted to become a veterinarian. A long detour included becoming a Certified Veterinary Technician at Colorado Mountain College which brought him to the Roaring Fork Valley in 1986. While attending CMC, Dr. Z. worked at a local ranch and other businesses which built character and a strong work ethic.
With becoming a veterinarian still in mind, he commuted from this area to Mesa State College where he earned a bachelor's degree. Finally, in 1995 Dr. Z. left the valley to attend veterinary college and graduated four years later from Colorado State University. Now he is excited about this new opportunity to return to this paradise and the wonderful people who live here. Dr. Ziegler is very grateful to Dr. Leake for the chance take the helm as the owner of Red Hill Animal Health Center. Dr. Z is also grateful for the competent and friendly staff who have made him feel at home.
Dr. Z. and his wife, Kelly, are ecstatic to make Carbondale their new home. Dr. Z has great love and respect for the outdoors and plans to spend his precious free time hiking, mountain biking, fishing, camping, snowshoeing, cross-country skiing, and tending his barbecue. Dr. Z. also shares his life with a wired haired Pointing Griffon– Earl Grey, Golden Retriever – Otis, and cat – Dorian Grey
Dr. Ziegler is a member of the CVMA, AVMA, and AAHA and has special interests in wound management, soft tissue surgery, and lamenesses. Dr. Z. encourages old friends and new to come by and say "hello" any time.
---

Dr. Rachael Breland, DVM
Dr. Rachael Breland graduated with both her undergraduate and veterinary degrees from Auburn University in Alabama. After graduating in 2009, Dr. Breland began her career as a veterinarian at a large practice in Birmingham, Alabama while her husband attended medical school. She then relocated to Texas and worked a relief vet in multiple clinics while her husband completed his residency. Rachael has a special interest in soft tissue surgery and dentistry but truly loves seeing pets and clients for everyday check-ups! Dr. Breland and her family recently moved to Colorado to live out their dream of loving where they live and work. Dr. Breland will be seeing patients at Red Hill Animal Health Center and her husband is a physician at Valley View Hospital. Their four children, two dogs, and two cats are happy to call the Roaring Fork Valley home and look forward to hiking, biking and just being in the great outdoors!
---
Dr. Taylor May
Dr. Taylor May is a native of Mississippi. She received her Bachelor of Science in Animal & Dairy Sciences and then her Doctor of Veterinary Medicine at Mississippi State University. Her professional interests include small animal internal medicine, soft tissue surgery, and dentistry. She is an active member of the American Veterinary Medical Association and Colorado Veterinary Medical Association. Dr. May and her husband, Montana, share their home with 2 very active dogs: Chief (British Lab) and Pete (mixed breed). Her hobbies consist primarily of travel and outdoor activities such as hiking, mountain biking, and now skiing and fly-fishing. She's so excited to transition to life in the Roaring Fork Valley, and she looks forward to meeting you and your pet(s) at RHAHC!