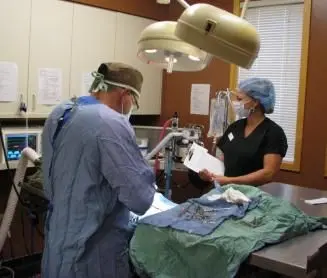 Red Hill Animal Health Center is looking to fill a full-time position for a credentialed veterinary technician. We are a busy, full-service, AAHA accredited veterinary hospital located in the heart of the Roaring Fork Valley in the beautiful mountains on the western slope of Colorado. We are just minutes from Aspen and Glenwood Springs and amazing outdoor opportunities and adventure. In addition to our busy general practice, we have a large boarding and daycare facility and pet grooming parlor.

Red Hill offers general practice medicine with a heavy emphasis on our dental practice, soft tissue surgery and preventative care medicine. We have a full in-house laboratory, digital radiography, ultrasound, cryosurgery, laser therapy and more. Our hospital works closely with the local animal shelters and rescues offering free or discounted services to give back to our wonderful community. Our technicians are highly utilized and relied upon for their excellent skills, doctor support and client education and communication.
Candidate must have a minimum of 1 year of experience in veterinary medicine, be passionate about animals and their people as well as pride in their work. Great communication and work ethic along with being highly dependable are an absolute must! We are serious about what we do and the care we offer but we still like to have fun at work whenever we can.
Great benefits include vacation, 401 K, short-term disability, continuing education, medical, dental and pet benefits. Hourly rate $18-22 depending on experience and references.